This year (2016) has been an eventful year to say the least, and as it's coming to a close I thought I'd take a closer look back at some of the best social campaigns of the year and list a few of my favourites. Here are ten of my favourite social media campaigns from 2016.
The Salvation Army: #thedress
Certainly one of the most brutally effective campaigns on the list, The Salvation Army used the viral 'blue vs gold dress' from earlier in the year to highlight domestic violence. Using the tagline 'why is it so hard to see black and blue?' the campaign was shocking, and was a great method of piggybacking on what was a useless debate, and highlighting a significant cause.
Universal: Straight Outta Compton
One of my favourite bands when I was growing up was NWA and this year Universal created a blockbuster and launched it with a campaign that allowed users to create customisable images with the template of the movie's title. This led to widespread and rather created Meme use. Personalised templates, and templates used for sheer comedic effect were distributed and shared across all channels, and this personalised image achieved meme-status, giving the film exposure in every corner of the internet. Here's some examples. I have included one of my favourties below.

(image credit s-media-cache-ak0.pinimg.com)
Innocent: Social with personality
Let's be honest Innocent smoothies, always do well and they had another great year, their Twitter feed is a prime example of how a brand can own the platform with its own style. Their feed is a delight, with humorous content and great customer engagement all whilst still showcasing their products in an effective way. Take this pantomime flow chart for example. This style has led to the 260k + followers the account has. Not bad for a fruit Smoothie feed.
Met office: #nameourstorms
The met office gained huge traction this year when they pushed for the procedure of giving storms a name, as is the method in America. The rationale behind this is that the public would take warnings more seriously. To help drive awareness, they adopted the #nameourstorms hashtag and asked for suggestions. It gained great media coverage for a while, and the campaign reached its target this year, with the met office naming its first storm, Angus. I am not sure what they are going to do when they get to X.
Yazoo: A year of social madness
A fascinating case study, Yazoo made the decision to shift all of their budget onto social. They gave up on TV and print, and have had a year of self-titled 'social madness'. The boost in budget has meant the drinks company have been on the ball with daily topical content, and as is evident in their case study, it has been extremely effective. It's a great example of how taking a risk with your strategy can pay off.
Sony Experia: X marks the spot
I remember working on the UK launch of Sony's Xperia smartphone many many years ago but this year they have been highlighting their phone's high-tech camera which can capture in 0.6 seconds, Sony Experia and Carphone Warehouse launched a Facebook campaign featuring videos which showed clips 0.6 seconds long. The task was to find the X in each clip, with those who identified it being given a chance to win prizes. It was a slick and edgy campaign whilst still granting interactivity for the audience. A great mix, and it's no wonder it won plenty of awards.
Amnestey international: #gayturtle
Certainly one of the weirdest #hashtags on the list, Amnesty International used the #gayturtle campaign in Turkey to highlight the issue of LGBT discrimination. The initial video seeks to highlight how ridiculous discrimination over sexual orientation is, and with multiple clips of individuals having second thoughts over purchasing a turtle once they are told it is gay, they certainly achieve that. It's a clever idea but it was filmed with actors rather than real people but at least it got people talking about an important issue.
British gas: #tweetforshelter
The gas giant made waves on social media last month through its partnership with British charity Shelter. The campaign asked individuals to tweet using the hashtag #tweetforshelter, with every hashtag gaining a £1 donation from British gas to the UK charity. It was a campaign a lot of people got behind, with money being raised for a good cause whilst simultaneously giving great exposure to Shelter and British gas.
Buzzfeed: Tasty
As we know Buzzfeed are the kings of sharable content, and have spawned their own style that is now imitated across the industry. It's no surprise then that they achieved another viral hit this year through their quick and effective food content outlet, Tasty. These 30 second guides to tasty recipes have been hard to avoid, dominating our Facebook feeds everywhere – they are pretty cool. The page has more than 52 million likes, and receives viewing figures many in social could only dream of. It's a brilliant example of how the simplest content is the most effective, it's all about execution.
'Black Beatles': The Mannequin Challenge
One of the stranger inclusions on the list, there is no clear evidence that this campaign was deliberate, yet I believe it deserves its place on the list as everyone has been getting involved. The viral 'mannequin challenge' had everyone from Hillary Clinton (that didn't help sadly) to James Cordon getting involved. These videos were shared extensively, and all accompanied by one song: 'Black Beatles' by Rae Sremmurd. Fast forward to the end of this craze, and the song is sitting on 230 million views on YouTube. It seems that serving as the soundtrack of a viral meme isn't too bad for business, and I find it hard to believe there wasn't some strategy involved!
I one final campaign I thought was brilliant which was the launch of Ghostbusters. The central part of the promotion was a sculpture of the iconic Stay Puft Marshmallow Man in Waterloo station which got a lot of people talking about what was – let's be honest – not a great film.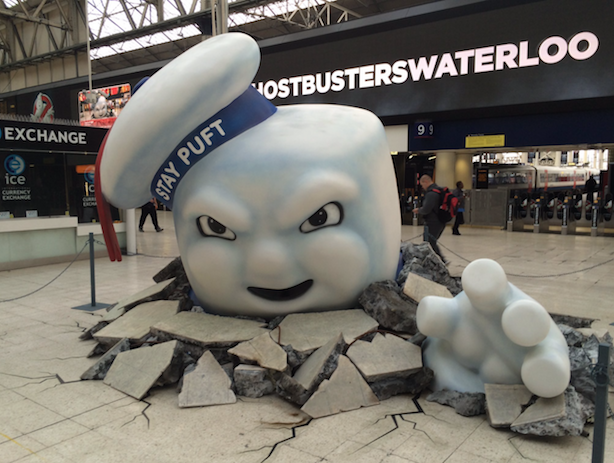 Have you got a campaign this year – you thought was great, if you have let me know in the comments.